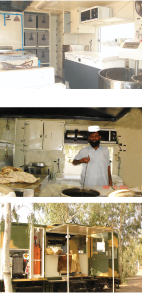 VMK

Vehicle Mounted Kitchen
GIDS's has indigenously designed and developed a Vehicle Mounted Kitchen for use in the field area to facilitate quick and hygienic cooking for troops. The kitchen has been successfully inducted in Pakistan Army and is mounted on a 4 x 4 vehicle with good cross country mobility. It is a complete and compact unit which has been equipped with the modern equipment to fulfill all basic cooking requirements in the field.

Characteristics
Carries three days ration for 150 persons.
Cooks meals for 150 persons in approximately two hours.
Stores 1000 liters of water in overhead water tank.
Uses both internal (14KVA Generator Set) and external electric power source.
Only 15 minutes required to setup the kitchen.
Easy relocation as per the operation requirements.
Hygienic food can be laid on the service counter for consumption on self service basis.
Appropriate quantity of utensils, crockery and cutlery available.
It has got an appropriate arrangement for washing of utensils.
Click for detail of Mobile Field Kitchen (MFK)
Click for detail of Portable Cooking Set (PCS)