SIMPAS

Propulsion Simulator for Submarine
Propulsion Simulator is real time simulator of propulsion control room for offshore training of crew members of AGOSTA 90B submarine. It will simulate the Propulsion Control Panel, Main AC Switchboard Panel, Main Motor Local Control and Cruising Motor Local Control.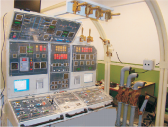 Efficient and risk free training
Electronic logbook of entire training session for performance evaluation
Realism of training through simulation of sounds
Instructor console to manage and monitor training sessions
Emergency generation by the instructor at any moment during exercise
Real time monitoring and control of more than 800 digital and analog IOs through high-tech data acquisition system
Simulates emergency situations such as fire, flooding and equipment failure etc.